It's never too late to start asking questions about a military ancestor. Veterans' volunteer Maureen Sargent thought she had most of the story about her grandfather and her great-uncles who served on the Western Front—then she had a chance encounter with an author who had new insights.
Maureen was getting ready for a trip to France when she discovered additional information about her grandfather, Michael John Ferricks, from a contact at the Kyoomba Sub Branch of the Returned Services League, in southern Queensland. They were publishing a book about its military hospital, and project officer Deborah Wheeler happened to mention there was a "Ferricks" among the 150 soldiers she was researching.
Maureen, who is based at Banyo RSL, never knew that her grandfather stayed at 'Kyoomba', which was a repatriation hospital and sanatorium.
Michael Ferricks was one of three brothers from Maryborough who headed off to war and the only one to return. Thomas Ferricks was killed at Messines (his name is on the Menin Gate Memorial) and Austin Ferricks died from 'Spanish flu' while waiting to come home.
The experiences of men such as Michael were captured in a unit history, The Spirit of the 42nd. One passage describes the 42nd Battalion's arrival at Passchendaele where men in 'atrocious' weather were exhausted, starving, and disabled by 'foot trouble' and mustard gas – 'targets for enemy snipers'.
"The ground was all shell stricken and sodden. Some of the wounded Tommies [British] were … in an appalling state. … the 'pillboxes' contained a full complement of dead and dying on both sides. … The stench from the dead was fearful."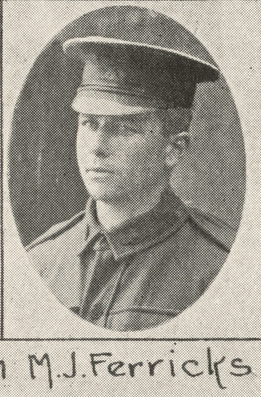 Maureen is piecing together her current research with material found by the Kyoomba RSL.
"My grandfather was quiet, never said much or spoke about the war, but he loved pottering and making things for kids," she said.
"He was gassed at Villers-Bretonneux and experienced bronchial problems, though he never let on how much he suffered.
"I've been to the Western Front five times and each time I learn more and more about my relatives."
Maureen has dedicated her life to serving veterans and their families. After a career with the Department of Veterans' Affairs, she became a volunteer, working just as many hours.
She works assisting veterans every day, as well as encouraging Australians to form RSL citizens' auxiliaries and support former defence personnel. In 2014, her service was formally recognised with an Order of Australia Medal.
References
Further reading:
Vivian Brahms. The Spirit of the Forty-Second: Narrative of the 42nd Battalion, 11th Infantry Brigade, 3rd Division, Australian Imperial Forces, during the Great War, 1914-1918. 42nd Battalion, AIF Association, 1938.