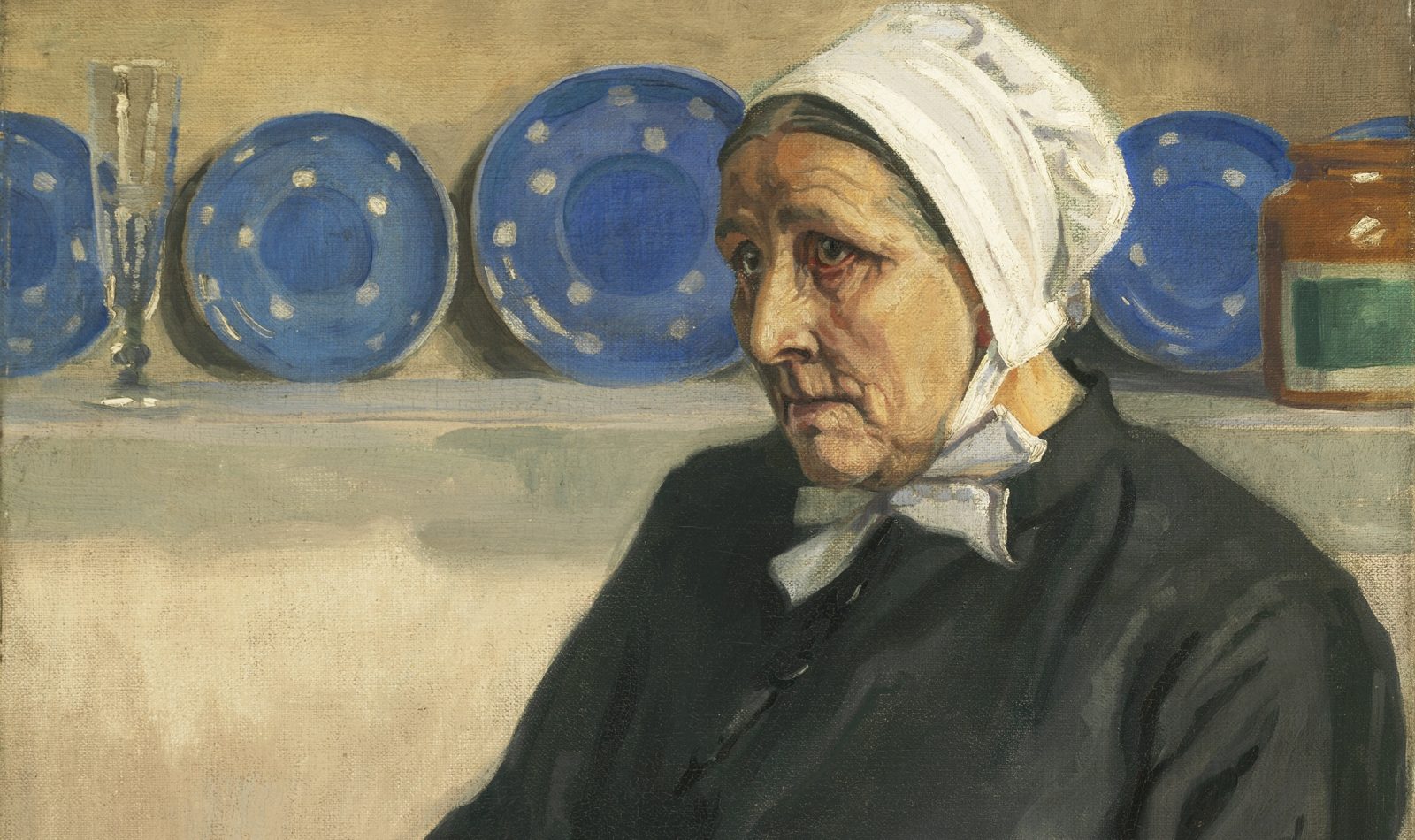 During the First World War, no women were granted commissions as Australian official war artists, but that didn't stop some female artists following their passion and making their own way to France to illustrate the war through their eyes.
The works of female artists during the First World War paint a very different picture of the war to their male counterparts. These women were able to cast a fascinating light on the sometimes forgotten social, industrial and personal aspects of the conflict, which, while not as graphic as images of the front lines, are invaluable in fleshing out a fuller picture of the human cost of war.
Australian female artists Iso Rae, Hilda Rix Nicholas and Evelyn Chapman all found themselves near the Western Front during or immediately after the war and made significant contributions to the Australian story of the war.
Isobel 'Iso' Rae was one of only two Australian female artists who were able to depict the First World War from close to the frontlines. Rae was not an official war artist, but produced about 200 pastel drawings while working for the Voluntary Aid Detachment of the British Red Cross (VAD) in the large army camp at Étaples from 1915-1919.
Strategically sited near the coast, Étaples became the largest British army base of the war, serving the British and dominion forces. The base served as a training ground for troops returing to, or bound for the first time to the front, a depot for supplies, a detention centre for allied and enemy prisoners and it administered several large hospitals. By 1917, there were 100,000 troops camped among the sand dunes at Étaples, and the hospitals were able to deal with 22,000 wounded and sick at any one time.
Rae's drawings offer an insight into life at this important base.
The artworks emphasise forms in heavy black outlines and capture unique images not portrayed by any other artist.
Born in Melbourne, Rae trained at the National Gallery School with George Folingsby and her fellow students included renowned artists Tom Roberts, Frederick McCubbin and John Longstaff. Rae moved to Paris in 1887 with her family and in 1890 she joined the artists' colony at Étaples, while continuing to exhibit her paintings in the Paris Salons. When the First World War began, the Rae family remained in the town.
At the end of the war Iso moved to the small village of Trepied, near Etaples, where she stayed until 1932, then went to England to live at St Leonards in Sussex. She died on 16 March 1940 at the Brighton Mental Hospital.
Hilda Rix Nicholas was born as Hilda Rix in Ballarat, Victoria, in 1884. Her father, Henry Finch Rix, was a prominent teacher and poet and her mother Elizabeth Sutton was a musician and artist who had attended the National Gallery of Victoria School alongside Arthur Streeton, Fredrick McCubbin, Rupert Bunny and Emmanuel Phillips Fox. Rix Nicholas also attended the school and was taught by McCubbin.
Early in her career she exhibited illustrations with the Victorian Artists Society and the Austral Salon (a significant women's arts society at the time). After graduating in 1907 she left Australia for Europe with her sister and her recently widowed mother. From 1910 she spent three summers in the artists' colony of Étaples and had her works exhibited in the 'New' Salon in Paris.
At the outbreak of the First World War, Rix Nicholas and her family moved from France to the relative safety of England. The boats were crowded and both her mother and sister contracted dysentery. Her sister subsequently died in September 1914 and her mother in early 1916.
By late 1916, Rix Nicholas' life seemed to be improving when she met, and married, shortly after, fellow Australian, Major George Matson Nicholas DSO. He had been based in the Étaples Army Camp, and having seen the paintings Hilda Rix left behind in her studio, tracked her down in England, and a romance ensued. Her joy in finding love is seen in a letter she wrote to him just weeks later:
Dear, I love you so … You are in danger and I am far away. Oh this ghastly war. Dear husband be brave and splendid and always your best, but don't be reckless. I need you and love you utterly.
Tragically, Major Nicholas was killed before the letter could be delivered to him.
The great loss suffered by Rix Nicholas at wartime really shaped her art, and the paintings she created in 1917 expressed the depths of her despair. While driven by her own personal experience, these paintings represented the suffering of all war widows. At the time, art tended to focus on war heroes and sacrifice and it was unusual to find strong statements about the impact of death.
One of Rix Nicholas's more famous works is 'A mother in France', a portrait of her neighbour in France whose son had been killed in one of the first battles of the First World War. The painting quickly became a symbol of the suffering of all mothers who had lost their sons at war.
From late 1917, Rix Nicholas began a series of portraits that celebrated the qualities and commitments of the Australian diggers. She began by portraying her late husband and his brothers, but the series grew into a large project once she returned to Australia. She received a very positive response to these works, particularly from returned soldiers who appreciated her recognition of their service and sacrifice.
Rix Nicholas achieved her ambition of taking Australian artworks to Europe. In 1925, she became the first Australian female artist to hold a solo exhibition in Paris. After she returned to Australia she remarried and painted from a studio on her rural property in southern New South Wales. Rix Nicholas continued to paint and exhibit until the 1950s, when her eyesight declined. She died at the age of 77, in 1961.
In 2015, the Australian War Memorial added to its collection by purchasing nine portraits by Rix Nicholas.
In early 1919, Sydney born painter Evelyn Chapman accompanied her father, a member of the New Zealand War Graves Commission, to France, visiting the Somme area where many Australian and New Zealand soldiers had lost their lives. Struck by the destruction she witnessed in the villages and towns, Chapman set up her easel and began to paint the ruined buildings and landscape, devastated by years of continued bombardment. She was the first female Australian to visit the battlefields.
Despite the desolation, Chapman was able to imbue her work with a sense of optimism and colour, showing plants and flowers growing among the ruins.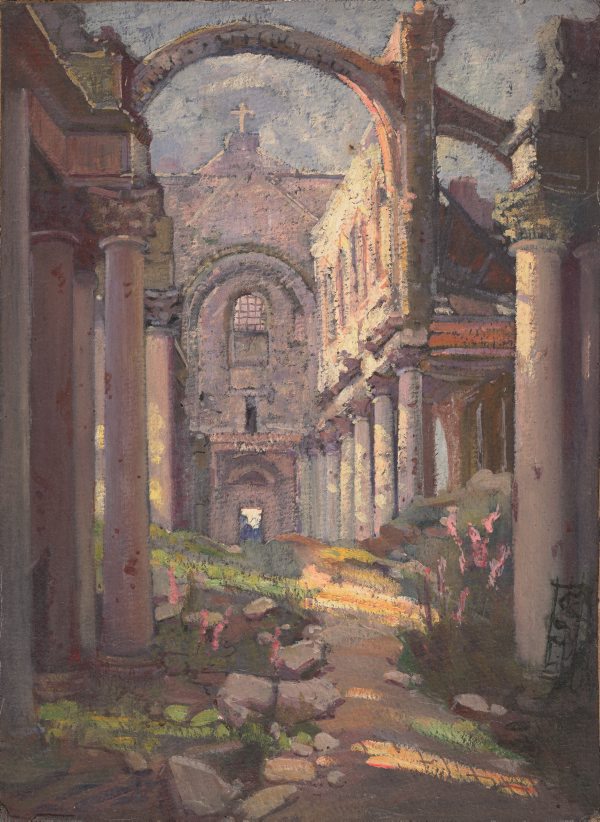 In 1920 and 1921 she exhibited at the Salon des Beaux Arts, Paris, retiring from painting after her marriage to Dr George Thalben-Ball in 1925; however she continued to support art education and practice, and passed her love for art on to her daughter.