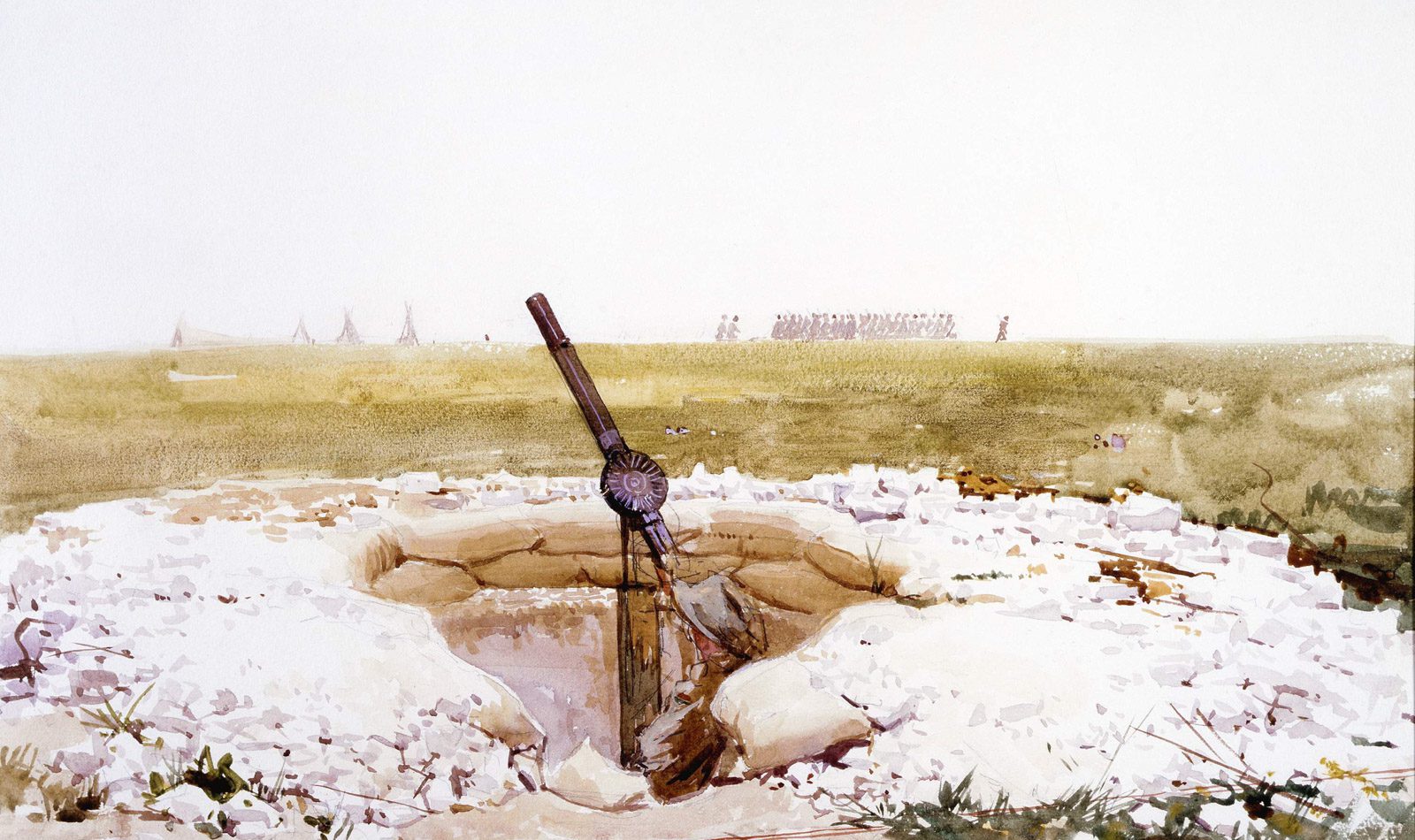 Australians arrived in France in March 1916, and were soon manning a sector of the Western Front.
Over the next two and a half years, they were involved in a number of key battles, including:
Dates
1916 July: Fromelles

The Australians' first major operation on the Western Front is a disaster: the worst 24 hours in Australia's history.

1916 July-August: Pozières and Mouquet Farm

Australians capture Pozières village and the heights beyond. These six weeks cost Australia 23,000 casualties.

1917 April-May: Bullecourt

The first Australian attack on the Hindenburg Line at Bullecourt fails, while the second descends into two weeks' close fighting and ends in German withdrawal.

1917 June: Messines

Australians and New Zealanders are successful in their first major operation together on the Western Front. This is General John Monash's first major battle.

1917 September: Menin Road

Beginning of Australian participation in Third Battle of Ypres. The following eight weeks would cost Australia 38,000 casualities, its heaviest in the war.

1917 September: Polygon Wood

The second of five Australian attacks as part of the Third Battle of Ypres.

1917 October: Poelcappelle

Australians make limited gains but are compelled to withdraw in difficult conditions.

1917 October-November: Passchendaele

Australians fail to capture Passchendaele and suffer heavy losses. The territory is later captured by Canadian troops.

1918 March-April: Dernancourt

Australians hold the line south of Albert against the strongest German attack during the war.

1918 April: Villers-Bretonneux

At the second battle of Villers-Bretonneux Australian and British troops recapture the town and finally stop the German offensive towards Amiens.

1918 April: Hazebrouck

Australians hold Hazebrouck against the German offensive, stabilising the Allied line and saving the Channel ports.

1918 July: Le Hamel

General John Monash's model victory becomes the template for future success.

1918 August: Amiens

Known as the 'black day in the history of the German army', Australians and Canadians achieve an uprecedented breakthrough.

1918 August: Chuignes

Australians capture Chuignes ridge, the main German position forward of the Somme.

1918 August-September: Mont St Quentin

The finest Australian feat of arms in the First World War unhinges the German defences on the Somme.

1918 September: Peronne

Australians capture the fortress of Peronne and force the German defences to withdraw to the Hindenburg Line.

1918 September: Bellicourt

Australians break through the Hindenburg Outpost Line.

1918 September: Bellenglise

Australians and Americans break the Hindenburg Line.

1918 October: Montbrehain

The Australians' last battle of the war.
Keep an eye on our newsroom as we feature different battles over the coming months.
You can register your interest to visit the Sir John Monash Centre, and see what Australian troops experienced on the Western Front, here.