A number of Australian-born soldiers serving in the British Expeditionary Force were sent to France in August 1914 and died in the opening engagements of the war on the Western Front.
For many years, they were recorded as British casualties; their Australian origins were not recognised in official paperwork. One such Australian was Lieutenant William Chisholm, who was mortally wounded at the battle of Le Cateau.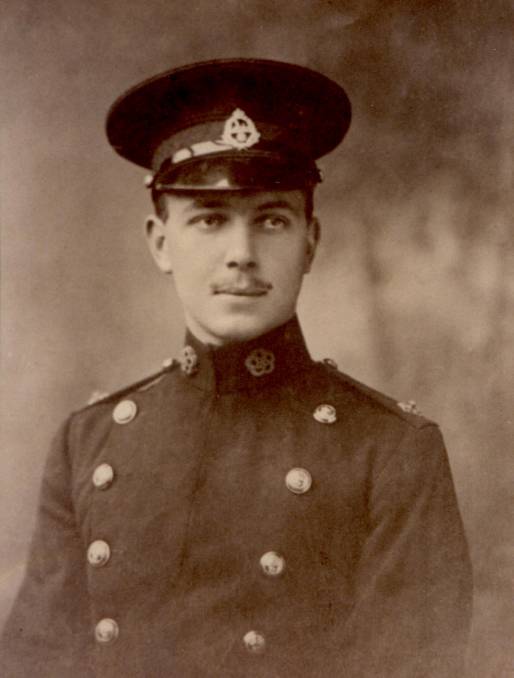 Lieutenant William Chisholm was born in Sydney in 1892, the eldest son of an eminent surgeon at Sydney Hospital. After attending Sydney Grammar School, Chisholm moved to England with his family in 1910 and attended the Royal Military College at Sandhurst to become a British Army officer.
At the age of 22, Chisholm joined the East Lancashire Regiment which embarked for France several days after the declaration of war. In his first major action on the Western Front, he was wounded at Le Cateau on 27 August 1914 and died the next day. His death was reported widely in the Australian press.
Lieutenant Chisholm was buried in the small cemetery at Ligny-en-Cambrésis, in northern France, alongside 40 other war casualties.
Deeply affected by the loss of their eldest son, the Chisholm family maintained a close relationship with the town. William's father commissioned a headstone in honour of his son and fellow soldiers who died alongside him. The headstone still stands today. The family also offered grants to keep the war graves tidy and to support war orphans. When William's mother, Emma died at the family home "Ligny" in Woollahra in 1928, William's father and sister brought her ashes to France. Respecting her wishes, her ashes were entombed in the Ligny-en-Cambrésis cemetery, just metres from her son's grave.
Further reinforcing the Franco-Australian link, through his mother's family, Chisholm was a descendant of Gabriel Huon de Kerilleau, a nobleman from Brittany, France, who fled to Australia in 1794 during the French Revolution. In Australia, Huon de Kerilleau served in the New South Wales Corps and tutored the children of pastoralist John Macarthur. He was then granted large tracts of land by Governor William Bligh and became a pioneer in the Shoalhaven district.
Recently, after representations by the people of Ligny-en-Cambrésis, the Australian War Memorial officially recognised William Chisholm as the first Australian who died in France during the First World War.
Chisholm was buried as a British soldier, but to the local people of Ligny-en-Cambrésis, to his family (and the press) in Australia, he was an Australian.
Each year on 27 August, the village organises a ceremony to pay tribute to Lieutenant William Chisholm's sacrifice. Information panels can be found in the village telling his story, and the main road through the village was also named in Chisholm's honour. Ligny-en-Cambrésis is a short distance from Mont St Quentin, the location of the 2nd Division Memorial, on the Australian Remembrance Trail.