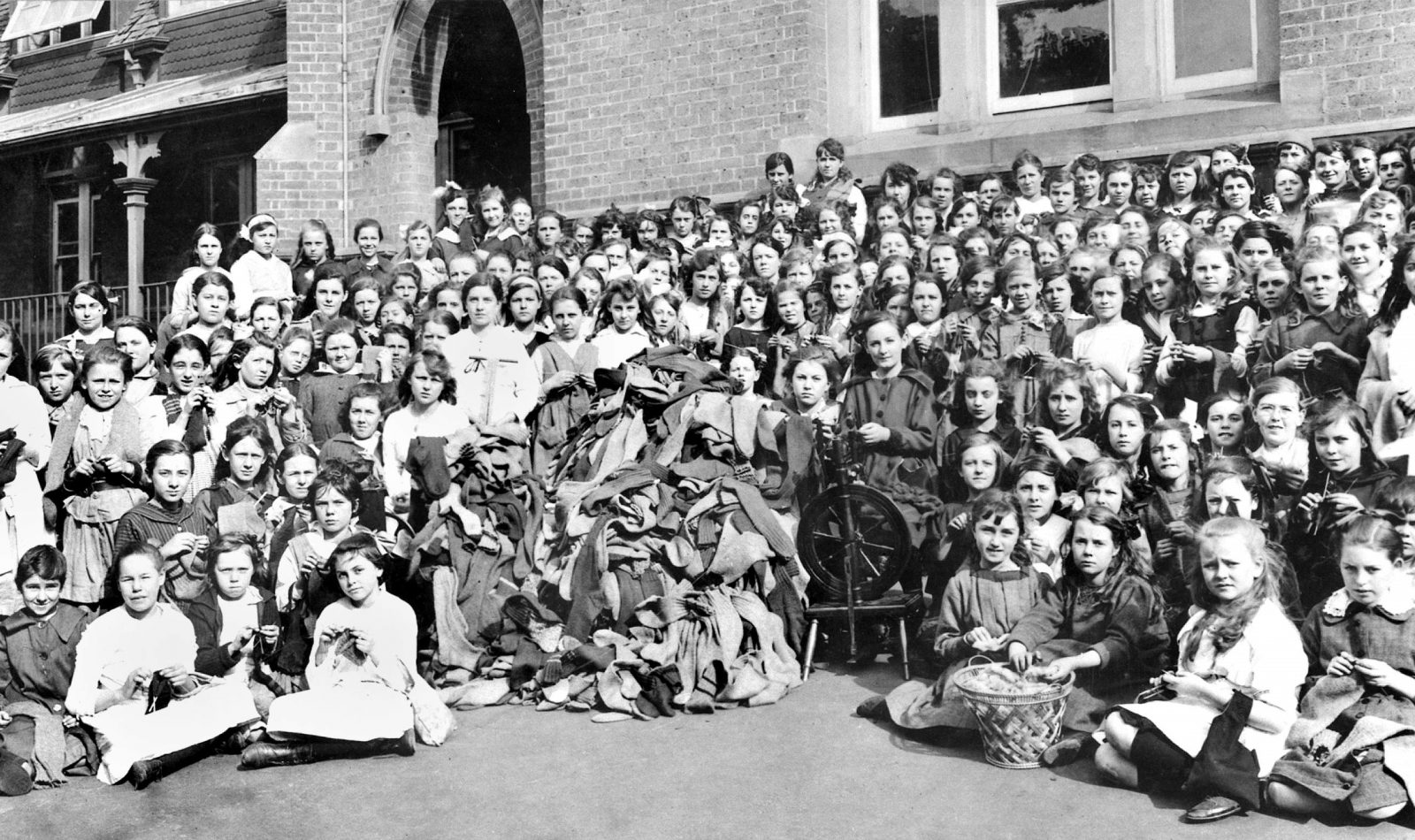 The First World War affected every part of Australian society. Nearly 417,000 men enlisted, while large numbers of women were recruited into jobs that had been vacated. Children were also expected to contribute to the war effort.
Here are 10 ways that the war impacted children on the homefront:
1. Volunteering: Children were expected to do their bit for the war. Many lied about their age so they could enlist, but those left behind were called on to pack clothing, knit 'trench comforts' (socks, scarves, etc.), work on farms and help at hospitals. Scouts and Guides also did this work and, in some states such as South Australia, their efforts were formalised through a Patriotic Fund that operated through schools.
2. Fighting fit: Public health campaigns and advertising by companies such as Arnott's shifted their focus towards keeping children strong and active, ready for duty and defence of a young nation.
3. Cadet training: From 1911-1929, Australia imposed compulsory military training for males aged 12 to 26. Cadet training began in school and focussed on physical drills, sport, and patriotic duty.
4. Household chores: With many women backfilling for men in factories and shipyards – and often supporting entire families – children often took care of household duties and younger children.
5. Working the land: Families were encouraged to grow their own produce so there was ample stock for the frontline. The iconic Anzac biscuit emerged as a means of combining three pantry staples – rolled oats, golden syrup and baking soda.
6. Raising funds: Children were encouraged to donate their pocket money to the war effort through charities, churches and military hospitals.
7. Salvaging and recycling: Kids collected scrap metal and other much-needed items to save on household spending and aid the Empire.
8. Put to work: When men shipped out, women and children were mobilised as labour. Young people's earnings supplemented family incomes, which suffered while the male breadwinner was away or lost in action. One woman recalled: 'I got a position at David Jones [at 14] … Of course your mother took you along … we used to have to work Saturday morning, and that was 48 hours a week … I got 10 shillings …'
9. Propaganda: When the conscription debate erupted and divided Australia in 1916 and 1917, children were increasingly stereotyped in political material as innocent creatures who could question a man's decision not to serve. Boys and girls were often dressed in little soldier and nurse uniforms, and they featured in wartime ballads such as 'Daddy's in the Dardanelles' (1916). Pamphlets and storybooks urged children to work hard and be thrifty to pay for the war effort.
10. Play: War – and the rise of mass production – changed children's toys. Manufacturers encouraged children to identify with patriotism, through toy soldiers, teddy bears dressed in national uniform, machine guns, cannons, airplanes, battleships, tanks and board games.