'The dark clouds returned and gathered about the boy. His eyes grew distant, and he began to tremble. He heard not only the shells exploding, but the cries of dying men … He was stumbling over churned earth, looking into the face of an officer, bloodied red as the poppies, ripped apart in the Flanders mud …' – Anthony Hill, Young Digger
Some fascinating stories about the First World War are emerging from Australians who Just Ask a few questions. One of the most incredible is that of French orphans who were smuggled into Australia with Anzacs coming home.
It's estimated that some 9,000 French children were orphaned during the war.
Until relief efforts and organisations were established, many wandered the battlefields of the Western Front and got by on the kindness of Allied soldiers.
'Digger' Honoré Hermene
On Christmas Day 1918, just after the Armistice, young Honoré Hermene wandered into the mess hall at Bickendorf, Germany.
Hungry and lonely, he sat down to lunch with members of the Australian Flying Corps 4 Squadron.
To the Australians, Honoré became known as Henri or 'Digger'. They appointed him as their squadron mascot and he endeared himself with his jokes, rat catching and joy-riding in planes.
When it was time to ship out, air mechanic Tim Tovell and his brother Ted smuggled the little Digger back home to Jandowae, Queensland. They loaded him into an oats sack and basket, aboard RMS Kaisar-i-Hind.
Nine days into the voyage, Henri was discovered but the captain agreed not to report him. When the ship arrived in Perth, he pretended to be the son of the Queensland Premier, T. J. Ryan, who was also on board.
The story was widely reported in the press, to the point that the Australian Government allowed Tim Tovell to adopt Digger.
Little is known about Honoré Hermene's life before he was rescued by the Australians, other than he was taken in by British soldiers near Lille and his father worked in a brewery but died in the Battle of Mons in 1914. The French Consul in Brisbane met the boy after he arrived in Australia and noted that he spoke very good French, not patois.
For five years, the boy lived with the Tovell family at Jandowae, a farming town north-west of Brisbane.
Sadly, Digger's new family life in Australia did not last much longer. He moved to Melbourne to work as an office boy at Victoria Barracks and to train as an aircraft mechanic like his stepfather. In 1928, he was killed in a car accident in Melbourne.
Digger was buried at Fawkner Cemetery with a commemorative plaque from the RAAF Association of Victoria.
Author Anthony Hill, who recounted the story in his book Young Digger (2002), said Tim Tovell never recovered from Digger's death.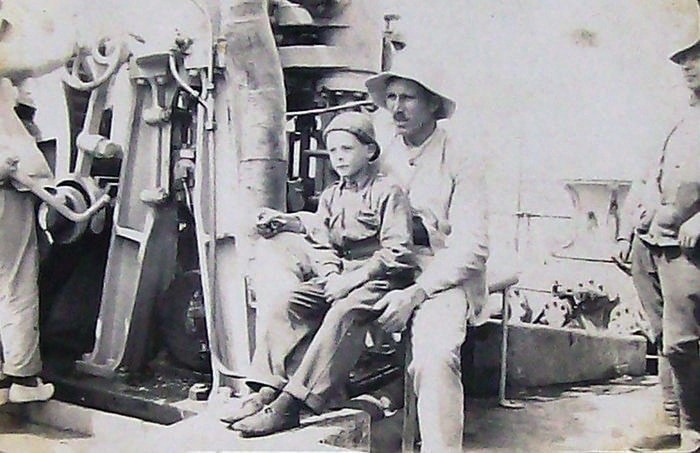 [A photo of them together] speaks to me of the love that bound the boy to the airmen and the devotion that bound them to him. And of why he and his brother took these risks to smuggle this boy back. If they'd been caught they could have gone to prison.
Jean Berthe
Another orphan, Jean Berthe, was rescued from the battlefield of the Somme in 1918 and became the mascot of the 3rd Australian Pioneers.
Similarly, when it was time to return to Australia, soldier Robert Simpson resolved that the boy would not be left behind to an uncertain fate.
Jean was born in Amiens in about 1906. As the German forces retreated from their unsuccessful attack on Amiens in 1918, Jean Berthe was apparently found kneeling over a member of his family who had been killed.
The 3rd Pioneer Battalion came across him as they were repairing damaged infrastructure. He had lost his entire family.
Local historians Sandra Hargreaves, Christine Svenson and Rob Cook have been researching the  The Quiet Frenchman for many years.
"Jean became the mascot of the 3rd Pioneers and travelled with them, no doubt as part of their transported cargo," they said.
"Kitbags and blankets were carried in G.S. wagons as they moved through France. This supports the anecdotes that Jean was hidden in a kitbag.
"When many of the 3rd Pioneers returned to Melbourne aboard the troopship Karagola in June 1919, young Jean was with them.
"He was brought to Gippsland by Private Robert Simpson and welcomed into his family."
Bob Simpson was a fisherman from Paynesville and, as Jean grew up, he too became a fisherman like his adopted father.
"He was part of a successful Paynesville football team in about 1929 and became a well-known local figure as 'the Frenchman'.
"In later years, he was an employee at the government shipyard."
Jean Berthe lived for many years but he never spoke about his background, hence his nickname of 'the quiet Frenchman'.
A third orphan owed some of his good fate to General John Monash.
Albert Hubert Dussart, 12, from Charlerloi in Belgium was stowed away by Private George Leahy from Tasmania. Private Leahy stuffed the boy into a chaff bag before boarding a repatriation ship in 1918.
Getting him to Australia, however, was another matter. Private Leahy argued with Australian, English and Belgian authorities over the boy's immigration. Ultimately General Monash intervened and the Prime Minister agreed.
Dussart's home of Charleroi had been a battlefield early in the war. The Battle of Charleroi (21-23 August 1914) involved more than a million soldiers and resulted in a French retreat and massive losses.
Four years later, Dussart came across the Australian troops from the 26th Battalion. He was in a desperate state; his mother had died from tuberculosis and he had run away from an orphanage taken over by German troops.
In an oral history interview in 1990, seven years before he died, Albert Dussart described his journey to Australia.
"Roaming about, and during snow, I came to an old factory with Australians on guard … and asked if I could sleep," he said. …
"The diggers all went up the gangway carrying their kit bags … and I'm in this bloody chaff bag.
"Somebody tapped me on the head, that was the captain of the ship … and he said to the diggers 'What's in there'?
"And they said 'Only bread'."
In Australia, Albert was adopted by the Leahy family in Tasmania and then he moved to northern New South Wales where he settled in Uralla.
He worked as a relief worker/labourer and had a family with his wife, Alice.
Albert lost contact with his adopted family but descendants recently reconnected with each other after tracing their family history.