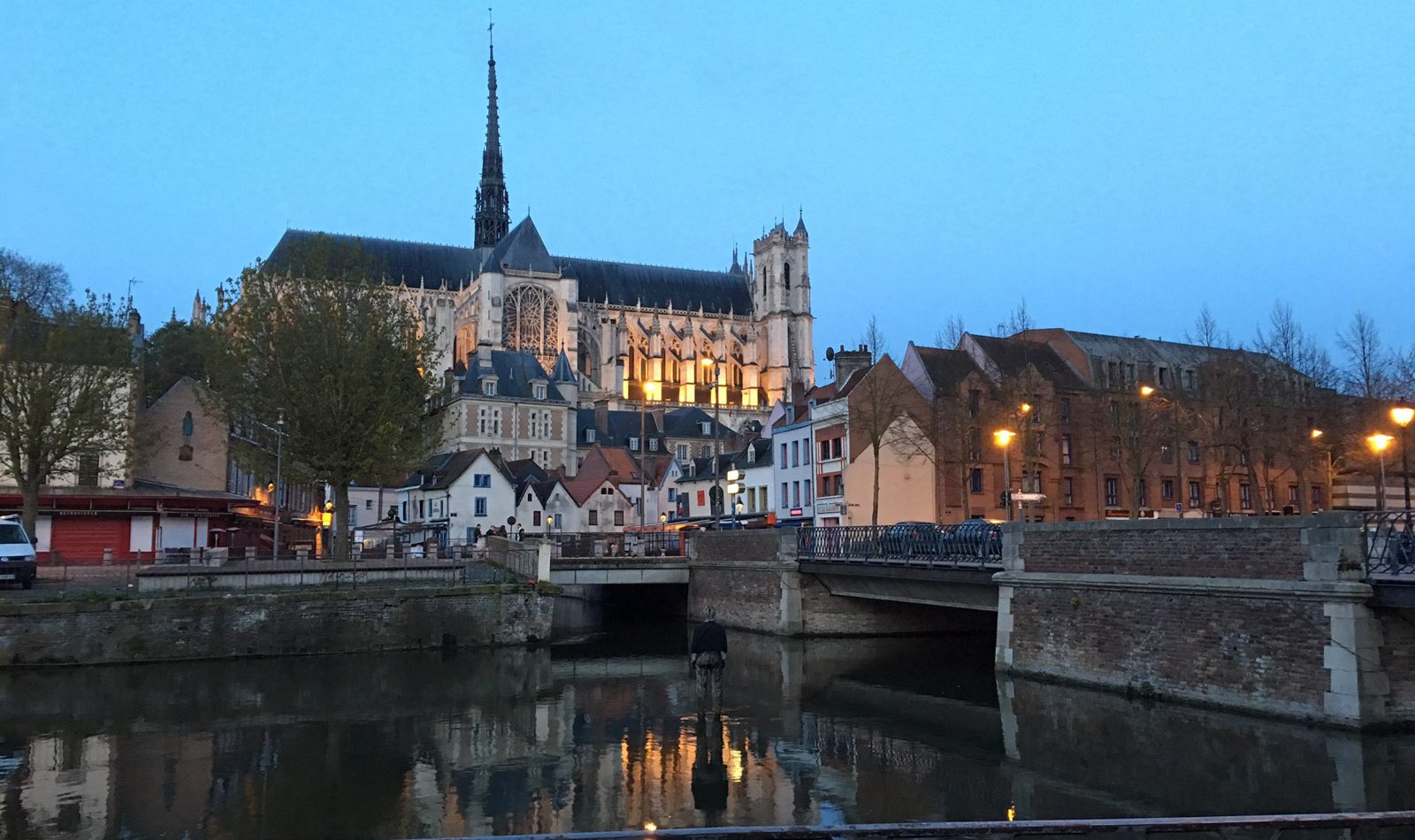 The UNESCO World Heritage listed city of Amiens is less than a two-hour drive from Paris and only half an hour from Villers-Bretonneux—home to the new Sir John Monash Centre.
Surrounded by significant First World War battle sites, Amiens has more to offer than military history. From gothic architecture to bars, restaurants and antique stores, there's plenty to see in the region, including:
Amiens Cathedral
Amiens Cathedral is one of the largest 'classic' gothic churches of the 13th century – not to mention the largest in France. Built between 1220-1228, the cathedral survived the First World War without any serious damage. It boasts 750 statues on the outside and for the active visitor, the 307 steps in its north tower, lead to a spectacular view! From mid-June to mid-September the great doors of the cathedral are illuminated with colour, as the 'la cathédrale en couleurs' show brings the Saints, Apostles and other statues to life.
Musée de Picardie
A haven for fine art lovers, the Musée de Picardie boasts collections dating from prehistory right up to modern times. Kids will love the basement full of artefacts and objects, including the sarcophagus of Neskafaa. Free for families on the first Sunday of every month and open late on Thursday's, the Musée de Picardie will delight.
Saint-Leu district
Pinned as the trendiest neighborhood in Amiens, the Saint-Leu district extends from the Amiens Cathedral to the Port d'Aval harbour on the Somme River. It's a jumble of narrow cobblestone lanes lined with quaint half-timbered houses, galleries, bookshops and boutiques. If you're interested in a leisurely stroll, or want to find a café this is the place to go.
The Hortillonnages
The Hortillonnages, known as the floating gardens, are found in the 65 kilometers of canals known as 'rieux'. The gardens, which can only be accessed by boat, have been cultivated since the Middle Ages, when they were used to grow produce. Nowadays, only a handful of market gardeners earn a living from the fertile soil, while most plots have become hobby gardens for locals who use the space for picnics, fishing and barbeques.
Jules Verne House
Celebrated French novelist Jules Verne and his wife lived in their Amiens house from 1882 to 1900. During this time, he wrote the famous Around the World in 80 Days. Stepping into Jules Verne House feels like travelling back into the 19th century. Visitor can enjoy the canopy of glass and iron, stunning mosaics and the collection of some 30,000 items belonging to Jules Verne and his family.